What is a Curriculum Vitae?
A Curriculum Vitae (CV) is a short summary providing information and details on your employment history, education and qualifications. There is no universally accepted format for Curriculum Vitae. There are some general guidelines which should be followed when creating a CV.
You should always send a covering letter to go with your curriculum vitae when applying for a job. Find out how to produce a cover letter here.
Your CV needs to be:
• A well-presented, selling document
• A source of interesting, relevant information
The main purpose of a CV is to get you an interview and to remind your interviewer about you when you leave the interview. When writing a CV you must put yourself in the reader's position.
Principles and Guidelines
Recruiting people is similar to buying a resource:
• Write your CV to suit the position a general CV is unlikely to impress.
• Match your skills and achievements with the job specifications.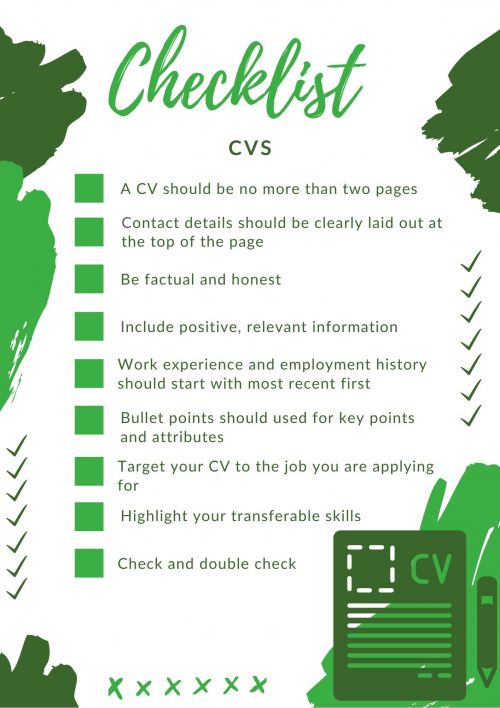 Creating a CV

Your CV should generally follow this basic outline:
• Contact Details
• Personal Profile
• Education and qualifications
• Employment history
• Training and development
• Personal details
• References
Your CV is trying to persuade the person to offer you an interview and is the first contact the person has with you, therefore make a good first impression:
Use good quality paper, the paper can be white or ivory, only use black ink
Contact details - The top of the first page of your CV should contain your contact details i.e. name, address, telephone number, mobile number, email
Keep your paragraphs short and concise
Use Arial or Tahoma font, and if possible a size font of 12 pt.
Check, check and recheck your CV for spelling and grammar errors.
Review your work a few times and get a family member, teacher or friend to review it and ask for feedback.
Do not fold your CV when sending to employers by post, place in a large envelope