During your time at school you will find lots of opportunities to develop your skills through your studies and extra-curricular activities. Having a range of demonstrable skills improves your chances of securing employment or further study, and helps you have a confident and capable approach to many situations in life. In school, you will focus on six employability skills which will help you to be successful in the future. This page will help you to understand what six employability skills mean in relation to work.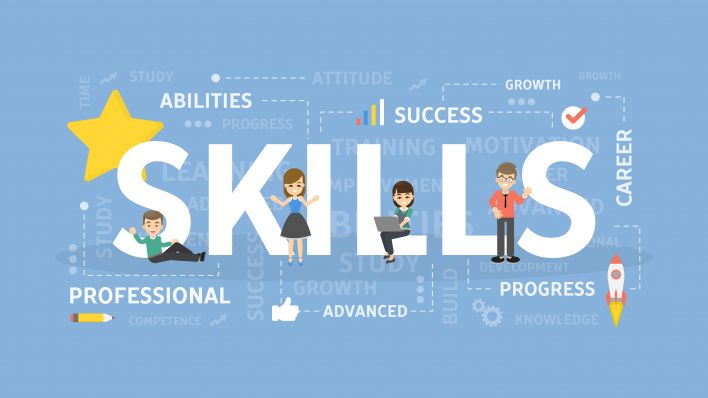 Communication

The process of using words, sounds, signs and behaviours to share information. Depending on the job, communication means being clear about what you mean and what you want to achieve when you talk or write. It involves listening and being able to understand where someone else is coming from. Communication skills also include non-verbal communication, such as the body language you use.
Teamwork
Working together to achieve a common aim. In work you may be required to work as part of different sized teams inside and outside of the organisation. Each member of the team is responsible for contributing to the task, but the group as a whole is responsible for the team's success. A successful team player can work positively with people of different cultures, backgrounds and ages, listens to others perspectives, understands that people have different strengths and can solve conflict professionally.
Problem Solving
The ability to look at information or a situation and think of an alternative to improve it. Problem solving skills are not only useful in the workplace, they are useful in other areas of life like relationship building and day to day decision making. Organisation rely on people who can handle difficult or unexpected situations and complex business issues. Effective problem solving can be broken down into four stages; know what the problem is, think of alternatives, select the best option and take actions to fix the problem.
Resilience
The ability to bounce back from a difficult situation and adapt to change. Resilience is the ability to cope with and rise to the inevitable challenges, problems and set-backs you meet in the course of your life, and come back stronger from them. Developing skills of resilience can help you face challenges and difficulties in life, which can help you feel better and cope better. Resilience is more than just coping. When you're resilient, you're more prepared to seek new ways to overcome your challenges and achieve your goals.
Ability to Learn
Learning is a lifelong approach which doesn't just happen whilst you are at school. Think of learning as a bridge or stepping stone on the path to acquiring other skills. A worker who knows little to nothing about an assignment or task, but knows how to acquire knowledge, is going to be far more valuable than someone who knows more but lacks the capacity to improve his or her skills. Actively seeking new ways to learn and adapt will help you to keep your knowledge and skills up to date and active in the job market.
Self Awareness
Understanding your strengths, weaknesses, motivations and skills. Self-awareness is one of those most essential skills for any individual, regardless of what you do for a living. When you know yourself, you know your strengths. This gives you a better understanding of the unique qualities you bring to your interactions with others and to your work. Recognising your weaknesses helps you to understand what improvements can be made. Knowing your strengths can help you to start to understand what career may be suited to you in the future.